El título: Los Spurs vapulearon a los New York Knicks en su propia cancha.
San Antonio aplastó a New York por 120 a 89 en una verdadera lección de básquet. Ginóbili aportó nueve puntos en los texanos, mientras que Prigioni anotó tres para el perdedor.
San Antonio no permitió mínimas equivalencias ante los Knicks, en el Garden, y le propinó una paliza furiosa en el primer duelo de argentinos de la temporada. Fue 120 a 89, como para profundizar el presente de uno y otro equipo. El conjunto de Greg Popovich quedó puntero del Oeste con un récord de 6-1, mientras que los de Woodson siguen sin encontrar el rumbo tras un inicio de temporada confuso y con lesionados (2-4).
Por el lado de Spurs, Emanuel Ginóbili aportó nueve puntos, más cinco rebotes y cinco asistencias (3-4 dobles, 1-6 triples) en 23 minutos. En tanto, Pablo Prigioni fue titular en el local y acabó con tres puntos (1-1 triples), dos asistencias y un rebote en 15. Danny Green concluyó como goleador del partido con 24 tantos (más diez rebotes). El esperado regreso del suspendido JR Smith no le cambió la cara a New York: aportó apenas cinco puntos con 1-9 de cancha.
Uploaded Today 14:14, Size 3.09 GiB, ULed by Nepotu
NBA.2013.RS.(10 nov).SA.Spurs.v.NY.Knicks.720p
Uploaded Y-day 13:50, Size 2.04 GiB, ULed by Nepotu
Así está el partido en este preciso momento:
| Team | 1st. | 2nd. | 3rd. | 4th. | Total |
| --- | --- | --- | --- | --- | --- |
| SA | 35 | 26 | 29 | - | 90 |
| NY | 17 | 28 | 15 | - | 60 |
Treinta puntos de ventaja al final del tercer cuarto. Llegó a ser de 35 puntos la diferencia (90-55).
Danny Green lleva 24 puntos con un 8/11 de cancha y 6/9 triples.
Tony Parker tiene 17 con un 8/12 de cancha.
Kawhi Leonard, desde el banco, lleva 14 puntos.
Pablo Prigioni salió de titular pero se fue a los 7:25 con 0 puntos y 2 faltas.
Manu lleva 7 puntos.
UPDATE !!!
LIVE

5:37 4th

San Antonio
New York

Sunday, November 10

7:00 PM EST

CSMA, FSOK

Washington
Oklahoma City



8:00 PM EST

FSAZ

New Orleans
Phoenix



9:30 PM EST

FSN, TWSN

Minnesota
LA Lakers
Los Spurs sentaron a los titulares, a Manu y a Kawhi y están jugando con el fondo del banco de suplentes.
Los Knicks hicieron lo mismo y volvió a cancha Prigioni para jugar el "garbage time" (tiempo basura).
UPDATE FINAL !!!
Spurs crush Knicks 120-89, win 4th straight
Sunday, November 10

San Antonio
New York
NEW YORK (AP) -- Danny Green had 24 points and a career-high 10 rebounds, and the
San Antonio Spurs
pounded the
New York Knicks
120-89 on Sunday for their fourth straight victory.
Kawhi Leonard
scored 18 points and
Tony Parker
had 17 in a game that was close for about 3 minutes. San Antonio scored the first 10 points, led by as many as 37, and was in complete control in between.
Tim Duncan
took just four shots but finished with 11 points and 10 rebounds as San Antonio shot 54 percent.
The Spurs spoiled the season debut of Knicks guard J.R. Smith, last season's Sixth Man of the Year. Suspended the first five games of the season for violating the NBA's anti-drug program, Smith shot 1 of 9 and scored five points in 20 minutes.
Carmelo Anthony and
Andrea Bargnani
both scored 16 for the Knicks.
Though San Antonio leads the Western Conference with a 6-1 record, coach Gregg Popovich said before the game the Spurs were playing C+ or B- basketball, adding there was ''not much'' he liked about the Spurs' start.
Well, hard to give this performance anything but an A+.
Green hit two 3-pointers in the 10-0 start, Marco Belinelli's 3 made it 17-4, and the Spurs hit 13 of 18 shots while opening a 35-17 lead after one quarter, matching their highest-scoring period of the season.
The lead grew to 24 points in the second, the Spurs repeatedly moving the ball to an open player before the Knicks knew what was happening. San Antonio was making roughly two of every three shots for much of the first half and took a 61-45 lead into the locker room after shooting 62 percent.
Smith, who ended the postseason in a miserable shooting slump, opened this season the same way. He missed all five shots in the first half, unable to shake the rust after appearing in just one preseason game following summer knee surgery.
By the time he made a 3-pointer with 8:43 left in the third quarter for his first basket, the Knicks trailed by 26 points. The Spurs went up by 30 a few minutes later on another 3 by Green, and fans loudly booed when Amare Stoudemire missed both free throws with a little less than 3 minutes left in the period.
The Knicks won both meetings last season, sweeping the Spurs for the first time in 10 years. But with center Tyson Chandler sidelined with a broken leg, New York looked defenseless against the Western Conference champions.
It was such a laugher that Popovich had Duncan, a career 69 percent free throw shooter, take the shot when Knicks coach Mike Woodson was called for a technical foul in the third quarter. Naturally, the way this one went, Duncan made it.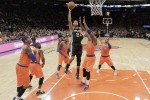 11/10/2013 2:13 PM
Nueva York, 10 nov (EFE).- Los Spurs de San Antonio llegaron hoy al Madison Square Garden con la mejor inspiración encestadora del escolta Danny Green, que aportó un doble-doble de 24 puntos y 10 rebotes, y vencieron por paliza de 89-120 a los devaluados Knicks de Nueva York.
Uploaded Y-day 15:11, Size 2.84 GiB, ULed by Nepotu
Uploaded Y-day 14:53, Size 1.89 GiB, ULed by Nepotu
Uploaded Y-day 14:41, Size 2.93 GiB, ULed by Nepotu
Uploaded Y-day 14:31, Size 3.65 GiB, ULed by Nepotu
@
http://sports.yahoo.com/nba/scoreboard/?date=2013-11-10
http://sports.yahoo.com/nba/san-antonio-spurs-new-york-knicks-2013111018/
http://sports.yahoo.com/news/spurs-crush-knicks-120-89-193147725--nba.html
http://teamleaks.com/San-Antonio-Spurs/
http://www.youtube.com/user/NBAshowtimeHD5/videos
http://manuginobili.com/foro/viewtopic.php?f=14&t=23027&start=8940
http://www.kldotv.com/noticias/deportes/baloncesto/
http://www.kpmrtv.com/noticias/deportes/baloncesto/
http://www.ole.com.ar/basquet/equivalencias_0_1027097601.html