Hasta ayer, había habido 2 partidazos y 2 palizas en esta serie. El partido 1 fue un partidazo de los Spurs y el segundo una paliza. Luego vinieron el partidazo del Thunder en el partido 3 y la paliza en el cuarto.
El partido 5 arrancó favorable para los Spurs pero enseguida el Thunder se fue 7 puntos arriba. Sin embargo el primer cuarto terminó 32-32 con 2 jugadas de 3 de San Antonio. Ahí arrancó un partidazo de los Spurs que terminó en paliza. Sacó 10 de ventaja en el segundo cuarto, otros 10 en el tercer cuarto y ya en el último cuarto, que fue practicamente todo jugado por los suplentes, sacó 25 de ventaja con el cuarto triple de Danny Green del partido y eso 101-76 llegó a ser una ventaja de 33 para terminar en 28.
Fue en definitiva, un partidazo y una paliza. En una sola palabra: Contundente.
Ahora, aún perdiendo el Domingo en Oklahoma, los Spurs tienen la posibilidad de definirlo en su cancha el Martes.
Por como viene la serie hasta ahora, un triunfo de San Antonio el Domingo está casi descartado, aunque todos sabemos que los de Popovich van a salir a jugar el mejor partido posible y ver si consiguen lo que hasta ahora nadie consiguió: Llegar al último cuarto, jugando de visitante, con alguna posibilidad de ganarlo y robarle uno al local.
Thursday, May 29




Spurs lead series 3-2

(2) Oklahoma City
(1) San Antonio

Final
Hubo 7 jugadores de San Antonio destacados: Tim Ducan anotó 22 puntos y baj;o 12 rebotes, Manu Ginobili metió 19 con un 7/9 de cancha que incluyó 3/4 triples y repartió 6 asistencias, todo en 21 minutos en cancha. Danny Green volvió a ser letal con sus riples, fueron 4. Kawhi Leonard metió 14 y bajó 7 rebotes, Boris Diaw metió sus 2 triples y terminó con 13 puntos y 6 rebotes, Tony Parker anotó 12 puntos y Patty Mills clavó 3/5 triples.
San Antonio Spurs
Min
FG
3pt
FT
+/-
Off
Def
Reb
Ast
TO
Stl
Blk
BA
PF
Pts
Kawhi Leonard

F

32:37
4-7
1-2
5-5
+22
1
6
7
2
1
2
0
1
3
14
Tim Duncan

F

29:50

8-13

0-0

6-7

+18

2

10

12

2

2

0

1

1

2

22

Matt Bonner

C

17:26
0-4
0-2
0-0
+6
0
0
0
0
0
0
0
1
2
0
Tony Parker

G

29:35
6-13
0-1
0-0
+15
1
3
4
4
2
1
0
0
1
12
Danny Green

G

22:23
4-9
4-8
2-2
+14
1
3
4
1
1
1
1
0
2
14
Boris Diaw
28:10
4-7
2-2
3-4
+19
3
3
6
3
2
1
1
0
0
13
Manu Ginobili

21:10

7-9

3-4

2-2

+15

0

4

4

6

0

0

0

1

2

19

Patty Mills
15:52
3-5
3-5
0-0
+14
1
1
2
0
0
0
0
0
2
9
Los Spurs terminaron con un 13/26 de triple, 51% de tiro de cancha y 87% en tiros libres. Ganó los rebotes 48-35, e hizo desaparecer a Ibaka del partido que terminó con 6 puntos y 2 bloqueos.
Uploaded Today 10:44, Size 4.57 GiB, ULed by Nepotu
Uploaded Today 11:08, Size 1.86 GiB, ULed by Nepotu
Manu llegó a los 19 puntos con apenas nueve tiros (anotó siete) y 21 minutos, además tuvo seis asistencias y cuatro rebotes, sin pérdidas. Otra producción de colección, justo cuando la temporada estaba en la cornisa.
"Contra Portland no me entraba un tiro y ahora sí. Esto es lo que sucede", fue la simple explicación de Manu, quien promedia 17.2 puntos, 61% triples, 3.4 asistencias y 1.6 rebote en 21 minutos. Pero, lejos de querer resaltar su tarea, el bahiense quedó feliz con la respuesta del equipo tras las dos derrotas contundentes en Oklahoma. "A veces no se trata tantos de clave y ajustes, sino de jugar más duro, estar más finos y ser inteligentes en la ejecución. Y lo hicimos. Fue un partido lindo para jugar y mirar", opinó Gino.
Manu esbozó una teoría sobre lo que puede estar sucediendo. "Está claro que tenemos juegos opuestos y lo que nos hicieron allá, nosotros se lo hicimos acá. Igual, tengo claro que no son tan grandes las diferencias entre ambos. No creo que sea tanto por las localías sino por cómo ha enfrentado cada uno los partidos. En Oklahoma ellos estaban enojados pero ahora fuimos nosotros, en casa, los que pudimos reaccionar".
Gregg Popovich
es así. Tomalo o dejalo. Su humor te puede causar gracia o pensar que está faltando el respeto. El jueves, en la conferencia de prensa, tuvo otro cruce con un periodista. Y luego, en las redes sociales, muchos lo criticaron por meterse con el trabajo y el dinero que gana esa persona. Juzgalo vos.
- Cinco partidos, cinco palizas. Para los que realmente no entendemos, ¿cómo lo explicarías? (Periodista)
- (Silencio) ¿Hablas en serio? ¿De verdad crees que puedo explicarlo? (Popovich)
- Dios mío. Y te pagan, ¿no?
- Muy poco
Ahí Pop aflojó y largó la carcajada. Y quizá su última frase, en voz baja, es la más polémica. "Esa es la cuestión, no vales tanto".
Ironías, bromas y mucho más es lo que brinda Popovich en cada aparición. Su carácter y parada de serio y distante genera un clima tenso, pero saben que el buen humor es una característica del estadounidense. Pero no a todos les cae bien, esta vez el periodista no eligió la mejor pregunta, pero Pop tampoco se la dejó pasar. Estas situaciones siempre quedan al limite entre el enojo y el buen humor.
Luego del entredicho, Gregg decidió responder la pregunta: "No tengo ni idea, de verdad. Cada partido es diferente. Se lo decimos al equipo siempre. No tienes ni idea de lo que va a pasar, como va a salir el equipo, si van a estar dormidos y mantener el balón...".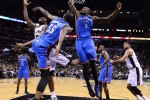 05/30/2014 12:08 AM
San Antonio (EEUU), 30 may (EFE).- La vuelta de los Spurs a su campo del AT&T Center, de San Antonio, les permitió reencontrarse con su mejor juego bajo el liderato del ala-pívot Tim Duncan, que aportó un doble-doble de 22 puntos y 12 rebotes en la victoria por 117-89 a los Thunder de Oklahoma City […]
Leave a comment
Update: Beat the Heat
La serie está 3-2 favorable a Miami.
Uploaded Y-day 09:01, Size 2.22 GiB, ULed by Nepotu

A Lance Stephenson no le molesta el papel de villano que le han puesto tras provocar a Wade con su físico y a LeBron con el famoso soplido. Los Pacers deben ganar este viernes en Miami para forzar un 7º juego en la final del Este. A las 21.30, por ESPN.

No son los duelos Celtics-Lakers en los años 80. Tampoco los de Chicago y los Chicos Malos Detroit a fines de esa década o los de los Bulls de Jordan ante los Knicks de Pat Riley en los 90. Pero la de Miami-Indiana ya es una rivalidad. Ya llevan tres temporadas seguidas encontrándose en playoffs (en las anteriores dos ganó Miami), con todo tipo de condimentos. Partidos parejos, cambiantes y ásperos, con peleas, declaraciones cruzadas, multas y acusaciones. Esta batalla tuvo el miércoles un nuevo round, con Lance Stephenson, el mayor provocador, soplando la cara de LeBron (ver video) y luego, con los Pacers, ganando para descontar en esta final del Este que sigue este viernes desde las 21.30 (por ESPN).

Pareció que lo tenía Miami en Indianápolis. Porque ganaba por 11. Pero James cometió cinco foules en un cuarto y medio, todo un récord, y los Pacers aprovecharon. Lance provocó, a Wade primero con un juego físico y después al Rey. Así sentó las bases. Lo siguió Paul George con una actuación épica (37 puntos) y, de repente, Indiana tiene una ilusión. Eso sí, en el sexto juego deberá hacer un juego perfecto para forzar un séptimo en casa. El Heat, en tanto, sabe que debe ganar ahora para llegar a su cuarta final NBA en forma consecutiva.



"Sólo estaba jugando al básquet... Disfrutando el momento", dijo Stephenson sobre el incidente con LeBron, quien se lo tomó con humor y admitió que la última vez que le habían soplado así la cara había sido en su casa. "Mi esposa", precisó. Luego se pusieron serios y Lance admitió que buscó "presionarlo más porque en toda la serie lo había notado muy cómodo". Sobre ser el villano de esta final, el alero contestó: "Sólo estoy intento ayudar a mi equipo a ganar. Hay mucho en juego y yo voy a seguir haciendo lo que sea", reconoció quien ligó una multa de 10.000 dólares por su último flop. Lo mismo que George, quien deberá pagar 5.000.

Estas ballas, calentitas, le han dejado un aprendizaje a los Pacers. "Miami nos han testeado y llevado al límite. Nuestra temporada, nuestro equipo, han ido mejorando por las batallas que hemos tenido con ellos. Son la razón por la cual (Luis) Scola llegó al equipo o se hizo el canje por Evan Turner, por ejemplo", analizó. Pero, como dicen todos, es la hora de dejar de competir y empezar a ganarle. Dejar de ser el hermano menor que pierde siempre. Este viernes deben hacerlo sí o sí.

Miami Heat no pierde en su cancha en partidos de playoff desde el juego 1 de las finales de la temporada pasada. Ya hilvanó 10 triunfos seguidos, incluyendo el título de la 12/13, cuando parecía un imposible. ¿Podrá Indiana cortarle la racha?
@
http://sports.yahoo.com/nba/oklahoma-city-thunder-san-antonio-spurs-2014052924/
http://www.kpmrtv.com/noticias/deportes/baloncesto/
http://www.ole.com.ar/nba/LasironiasdePop_0_1147685493.html
http://www.ole.com.ar/nba/MasInteligentesyDuros_0_1147685464.html
http://www.ole.com.ar/nba/Stephenson-HacerLoQueSea_0_1147685502.html
https://www.youtube.com/channel/UCFH9wqTb2lVK3lcexeoQkSQ/videos
https://www.youtube.com/channel/UCWJ2lWNubArHWmf3FIHbfcQ/videos
https://www.youtube.com/user/AshokGamer/videos
https://www.youtube.com/user/FunkyAxel111/videos
https://www.youtube.com/user/G4NBAVideosHD2/videos