Me gusta Daft Punk, pero ya estaban consagrados hace rato, no me sorprendió la calidad y repercusión de su último disco.
Me gustó lo que hicieron en la película TRON de hace un par de años y desde ahí sabía que los tipos están uno o dos pasos adelante que todos los que hacen música electrónica.
Para mi el disco y artista del año en el ambiente del pop-rock/alternativo/indie que es lo que más escucho junto con Metál Gótico/Sinfónico (gusto musical bipolar que le dicen), y en un año en donde todas las pop stars (Britney, Cyrus, Gaga, Gomes, Lavigne, Madonna, Perry, etc.) han sacado discos nuevos salvo Kesha que lo hizo en 2012 es el disco de
Sky Ferreira
titulado Night Time, My Time.
Uploaded 11-06 17:43, Size 350.25 MiB, ULed by SmashAndGrab
Uploaded 11-07 11:05, Size 112.01 MiB, ULed by Vitamin_X
Uploaded 10-29 17:01, Size 107.02 MiB, ULed by nanickore
Dicen que cuando Michael Jackson escuchó cantar por primera vez a Sky Ferreira (21), sus ojos se llenaron de lágrimas. Ella niega la versión, pero es muy probable que sea cierta: su abuela fue la peluquera durante más de veinte años del fallecido ídolo del pop, razón por la cual Michael podría haberla escuchado cantar; y, por otro lado, si tan solo en dos años y sin el apoyo del circuito comercial, Sky pudo ser catalogada como "la nueva Madonna", significa que le sobra talento y que perfectamente podría haber conmovido al rey del pop hasta las lágrimas.
Uploaded 01-20 01:22, Size 43.33 MiB, ULed by Anonymous
A los 16 años convenció al dúo sueco de productores Bloodshy & Avant para que escucharan su música. Quedaron tan impresionados que decidieron producir sus primeros temas. "El único problema es que no sabían cómo venderme. Yo hacía temas pop con un toque grunge y ellos querían música más apropiada para mi edad", contó Sky, quien aseguró que "no quería ser como Justin Bieber". Es por eso que todo lo que hizo hasta el momento fueron canciones y álbumes para descarga digital y la promoción se hizo a través de videoclips. Sky es habitué de las front rows y pasa horas y horas en el estudio del fotógrafo y amigo Terry Richardson, quien dirige sus videos. El combo perfecto: talento musical y acceso al mundo de las celebrities. El brillo de Sky trascendió la música y hoy el mundo fashion está rendido a sus pies. El año pasado su imagen causó gran impacto al protagonizar la portada y producción de la revista V donde evocaba a Madonna.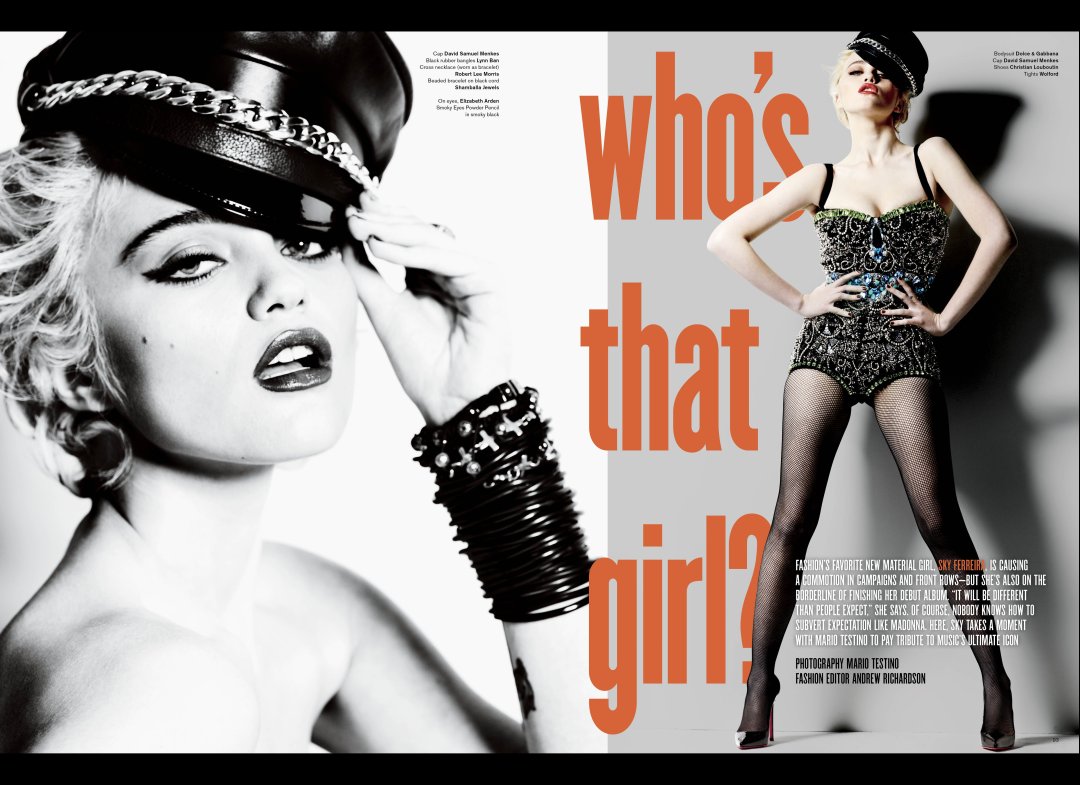 En el ambiente Metál Gótico/Sinfónico el disco de Tarja Turunen Colours In The Dark me pareció una porquería. Within Tempation no hizo lo suyo sino un album de covers muy bueno llamado
The Q-Music Sessions
que es má pop que otra cosa pero cantado por una verdadera voz: Sharon den Adel.
Uploaded 05-08 22:55, Size 283.29 MiB, ULed by SmashAndGrab
Uploaded 04-21 00:52, Size 126.72 MiB, ULed by Ariclenes
Y hablando de covers y buena voz, obviamente recomendar el último de Susanna Hoffs junto a Matthew Sweet, Under the Covers Vol. 3 .
Todavía no escuché el último del perro Robbie Williams con ese título tan divertido ni tampoco el último de Marie Fredriksson (la ex de Roxette) titulado simplemente
Nu!
.
Uploaded 11-30 22:31, Size 282.43 MiB, ULed by barber9
Uploaded 11-18 11:26, Size 91.48 MiB, ULed by Anonymous
Ah, y en el ambiente Metál Gótico/Sinfónico también está Amberian Dawn - Re-Evolution que es un album con temas de sus primeros 4 discos pero que como cambiaron la cantante, decidieron hacer algo parecido a lo que hizo Nightwish cuando se fue Tarja, hacer que la nueva cante sus mejores 10 temas de los 40 que hay en esos 4 discos preciosos.
Uploaded 10-16 17:29, Size 347.22 MiB, ULed by Anonymous
Heidi Parviainen fue remplazada por Päivi "Capri" Virkkunen. Se espera que Heidi Parviainen siga los pasos de Tarja y tenga una carrera solista. Esta es Capri:
En Enero Within Temptation saca su próximo album: Hydra. Estoy en la dulce espera. ;-)
1. Let Us Burn
2. Dangerous (featuring Howard Jones)
3. And We Run (featuring Xzibit)
4. Paradise (What About Us?) (featuring Tarja)
5. Edge of the World
6. Silver Moonlight
7. Covered by Roses
8. Dog Days
9. Tell Me Why
10. Whole World is Watching (featuring Dave Pirner)
The digital premium edition also features several of the cover songs from WT's QMusic sessions and some "evolutions" of the tracks on the album:
11. Radioactive (originally performed by Imagine Dragons)
12. Summertime Sadness (originally performed by Lana del Ray)
13. Let Her Go (originally performed by Passenger)
14. Dirty Dancer (originally performed by Enrique Iglesias)
15. And We Run- evolution track
16. Silver Moonlight – evolution track
17. Covered By Roses – evolution track
18. Tell Me Why – evolution track
19. Paradise (What About Us?) feat. Tarja – Music Video (exclusive to iTunes premium version)
Hydra will be released on the 31st of January 2014 and is already available to pre-order in CD, vinyl and box set versions from Nuclear Blast and EMP.
Bonus Artists by dxburbuja & tony_bennett: Dream Theater & Laura Marling
Uploaded 10-08 20:56, Size 733.25 MiB, ULed by Anonymous
Uploaded 09-17 15:57, Size 13.02 GiB, ULed by n0b0dyh0me
Uploaded 05-23 14:45, Size 146.22 MiB, ULed by Vitamin_X
Uploaded 11-14 12:27, Size 448.26 MiB, ULed by Beolab1700
Uploaded 06-03 08:34, Size 164.47 MiB, ULed by ore-sabre
@
http://fashionanthemsblog.wordpress.com/2013/08/29/secret-stars-or-digital-love-daft-punk-a-la-mode/
http://foroaudioyvideo.com.ar/viewtopic.php?f=21&t=3558
http://thepiratebay.sx/search/SKY+FERREIRA/0/3/100/
http://www.youtube.com/user/SkyFerreiraVEVO/videos
http://yoelpiordetodos.blogspot.com.ar/2013/11/hoffs-williams.html
http://www.kpfusion.com/2012/01/11/whos-that-girl-sky-ferreira-channels-madonna-for-v-magazine/
http://metalfemalevoices.blogspot.com.ar/
http://hapfairy.blogspot.com.ar/2013/01/upcoming-symphonic-metal-albums.html
http://hapfairy.blogspot.com.ar/2013/11/within-temptation-reveal-new-album.html
http://thepiratebay.sx/search/Laura%20Marling/0/3/100
http://www.lauramarling.com/